Summary
Philosophy of the Runic Practices
Whether they are called Rune Postures, Rune Yoga, Runic Gymanastics, Runic Exercises, or Rune Stadhagaldr , it is important to understand their theoretical basis.
The basic idea is that the human organism is like an antenna that can send and receive different types of energy (sometimes referred to as "waves" [wellen ]. As the practitioner becomes more accustomed to runic practices, they may also receive (or specifically be able to differentiate and understand) spiritual information about themselves and the universe (and everything in between).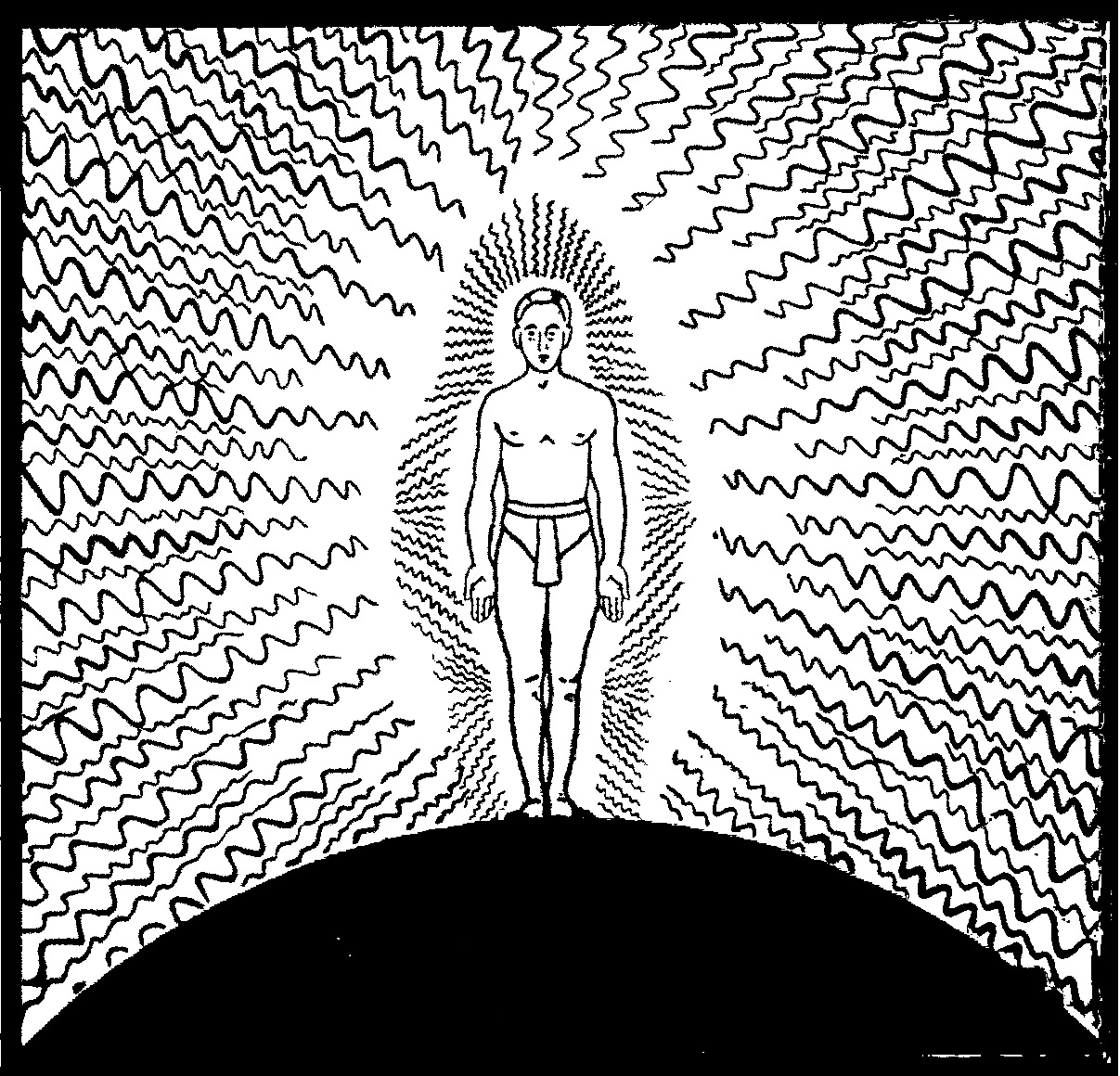 There are different types of 'waves' or 'currents' that come from different "zones" and therefore have different information in them and provide different types of energies. The easiest way to think about it is in two zones:

A – Celestial (or Heavenly): the energies from everything above us (the sky, the atmosphere, the planets, the solar system, the sun, the stars, etc.)
B – Terrestrial (or Earthly): the energies from everything below us (the plants, the rivers and waterways, the surface of the earth in general, but also the interior of the earth, all the way down to the magnetic core of our planet itself.
Marby talks about 5 zones, which you can
read more about here
, but it can be just as powerful to use two.
The runes, themselves, are said to be something like archetypal structures. They are special shapes that attract and vibrate various types of energy from the universe. Some say that their structure can even be deciphered into an explanation of how the corresponding energies are working in them (for more, see Teltscher's Rune Theories).
However, a simple way to remember the practices is that each rune has an archetypal energy and by taking its shape, we are able to integrate that energy into ourselves. One takes up the Rune Posture (with our body or with our hand), visualizes the Rune (and its attributes), and then one sings or vocalizes the associated Mantras and/or does the associated Prayer.
As a general rule, the Runes' Mantras can be divided into 2 groups: Vowels and Consonants.

[1] Vowels generally Mantralize the vowel itself or the name of the Rune,
[2] whereas Consonants combine the particular consonant with -A, -E, -I, -O, -U.
This is most apparent for the first 10 runes, after that, some Consonants may use the name of the Rune as its Mantra or employ a Prayer (with or without a Mantra).
Rune Associations
Number

Rune
Symbol

Esoteric
Rune Name(s)

Associated
Letter

Associated
Germanic
Practice

Associated
Rose-Cross or Gnostic
Practice

1

Fa

F

"Fa, Fe, Fi, Fo, Fu"

Same + Prayer

2

Ur

U

"U" or "Ur"

Prayer with
"Aum" or "Ram-IO"

3

Dorn/Thorn

D or Th

"Da, De, Di, Do, Du"
or
"Ta, Te, Ti, To, Tu"

"Ta, Te, Ti, To, Tu"

4

Os

O (A)

"O", "Os", "Ol", "As", "Ask";
"Othil", "Odal", "Adel"

Prayer and/or
"Thorn" or "Torn"

5

Rit / Rita

R

"Ra, Re, Ri, Ro, Ru"

Same

6

Kaum / Kaun

K/C (G)

"Ka, Ke, Ki, Ko, Ku"

"Kaom/Kaum"
[Transmutation Practice]

7

Hagal

H

"H" [aspiration] or
"Ha, He, Hi, Ho, Hu"

[Work with the Elements]
"ACHAXUCANAC,
ACHXURAXAN,
ACHGNOYA, XIRAXI,
IGUAYA, HIRAJI."

8

Not/Nod

N

"Na, Ne, Ni, No, Nu"

Same or "Ni, Ne, No, Nu, Na"
[combined with the
Ehe/Eh Pracice]

9

Is

I

"I", "Is", "Isa"

"I" or "Is-Is"

10

Ar

A

"A", "Ar", "Ra", "Asa"

"Ario"

11

Sig / Sal / Sol

S/Z

"S", "Sig", "Sal", "Sol";
"Sa, Se, Si, So, Su"

"S" or "Sulu Sigi Sig"

12

Tyr / Tir

T

"Ta, Te, Ti, To, Tu"
or
"Tat, Tet, Tit, Tot, Tut"

"Tir"

13

Bar

B

"Ba, Be, Bi, Bo, Bu"

"Bar"

14

Laf

L

"La, Le, Li, Lo, Lu"

Prayer

15

Man

M

"M", "Man", "OM";
"Ma, Me, Mi, Mo, Mu"

Prayer

16

Yr / Ir

Y

"Y", "Yr", "Ir", "Yb", "Eibe"

[Transmutation Practice
and/or Prayer]

17

Ehe / Eh

E

"E", "Eh", "Ehe",
"Ehu", "Eoh", "Eys"

[Combined with the
Not Practice]

18

Gibor / Gibur

G

"Ga, Ge, Gi, Go, Gu";
"Gibor", "Gebur",
"Gifu", "Gebo"

[Transmutation Practice
and/or Prayer, Combined
with the Sig Practice]

19

[Ger/Jera or Belgthor ]

[Combined with the
Cross Practice]

20

[Cross]

'Ninth Night' Practice

21

[Othil or Odil ]

[Combined with the
Os Practice]

22

[Malkreuz ]

[Combined with the
Gibor Practice]
It is very useful to study and understand the Rune's meaning, because this allows us to work with the specific Rune(s) that can assist us to acquire the energies we need as we walk the Path.
Different authors have different associations and meanings for the runes, although there certainly is some overlap and consensus. In the end, we recommend the Gnostic and Rose-Cross explanations, but clearly there are times when one can see that the Gnostic synthesizes the Rose-Cross and that the Rose-Cross synthesizes the 'Historical' (or 'Traditional Germanic') explanations.
A personal understanding of each Rune also emerges as we meditate on it and do its practice(s).
Advice on How to Practice
We recommend beginning and ending the Runic Practice with a Microcosmic Star:
As for the Mantras, there are multiple ways to vocalize them:
1) Mentally (without any external sound)
2) Whispering
3) Saying it in a normal voice
4) Yelling or saying it as loud as possible
As we learned, Odin "learned the Runes" by "yelling them". So when one is in a place where it is safe to yell, without attracting attention or causing a problem with the neighbors, etc., then this is a very useful technique to employ.
When you are doing the Rune Practice, forget about everything else and concentrate on the Mantra & the other elements associated with the Practice. Those associated elements may be extracting the energies from the Universe (Macrocosmos) or awakening the associated attributes in oneself (Microcosmos) or a combination of both.
Runes work well when practiced as an individual, as well as with others. When we practice in groups, we can either face North or East as a group, or face each other (in a circle or whatever shape makes sense related with the size of the group). Here one should note that when 2 or more practitioners face each other during rune practices, there may be a personal exchange of energies. One should be very attentive to the results of these sort of exchanges (even at the exact moment they are happening). They may be harmful or beneficial depending on the practioners' Level of Being. As a result, it is recommended to start facing North or East as a group and then, later (only after some time has passed in order to determine if it is advisable), one can cautiously try facing each other. This is true even with 2 people.
A Reminder Regarding Esoteric Practices
Many people say that one must be careful when doing Runic Practices. Let us remember that the Gnostic should already be familiar with Gnostic Psychology (that is: Self-Study and Mystical Death). If you are new to this subject, please study our Gnostic Psychology Classes to learn more about this topic, because it is ESSENTIAL to avoid any issues related with what you may encounter when practicing the Runes.
Generally, the issues one encounters are an accumulation of energy or energies (aka "waves", "currents", "streams", etc.) that either:
1) one does not know how to handle, or
2) are used by the Ego to create more problems, or
3) are facilitating internal experiences that one does not understand.
Each of these cases can be solved through applying the Gnostic Teachings. We need to develop a relationship with our Inner Divinity. We need to Pray and ask our Inner divinity for help, and then we need to listen with a receptive mind.
Sometimes we need to Meditate and Transmute more (see Meditation Practices).
Sometimes we need to study Psychology more, and learn to work on ourselves.
Sometimes we need to Pray more and study more Kabbalah (see our Gnostic Kabbalah series, specifically understanding the Ray of Creation and the meaning of the Hebrew Letters, Numbers and their associated Glyphs) to interpret the messages we are receiving.
But we always need to listen to our Inner Guide, our Inner Teacher, our Inner Being, so that we can do what is right for us individually.
Rune Circles
Many of the authors we have studied employed special runic circles for various purposes. Below, on the left, we have Gorsleben's 1930 Rune Circle and, on the right, we have Kummer's Rune Circle: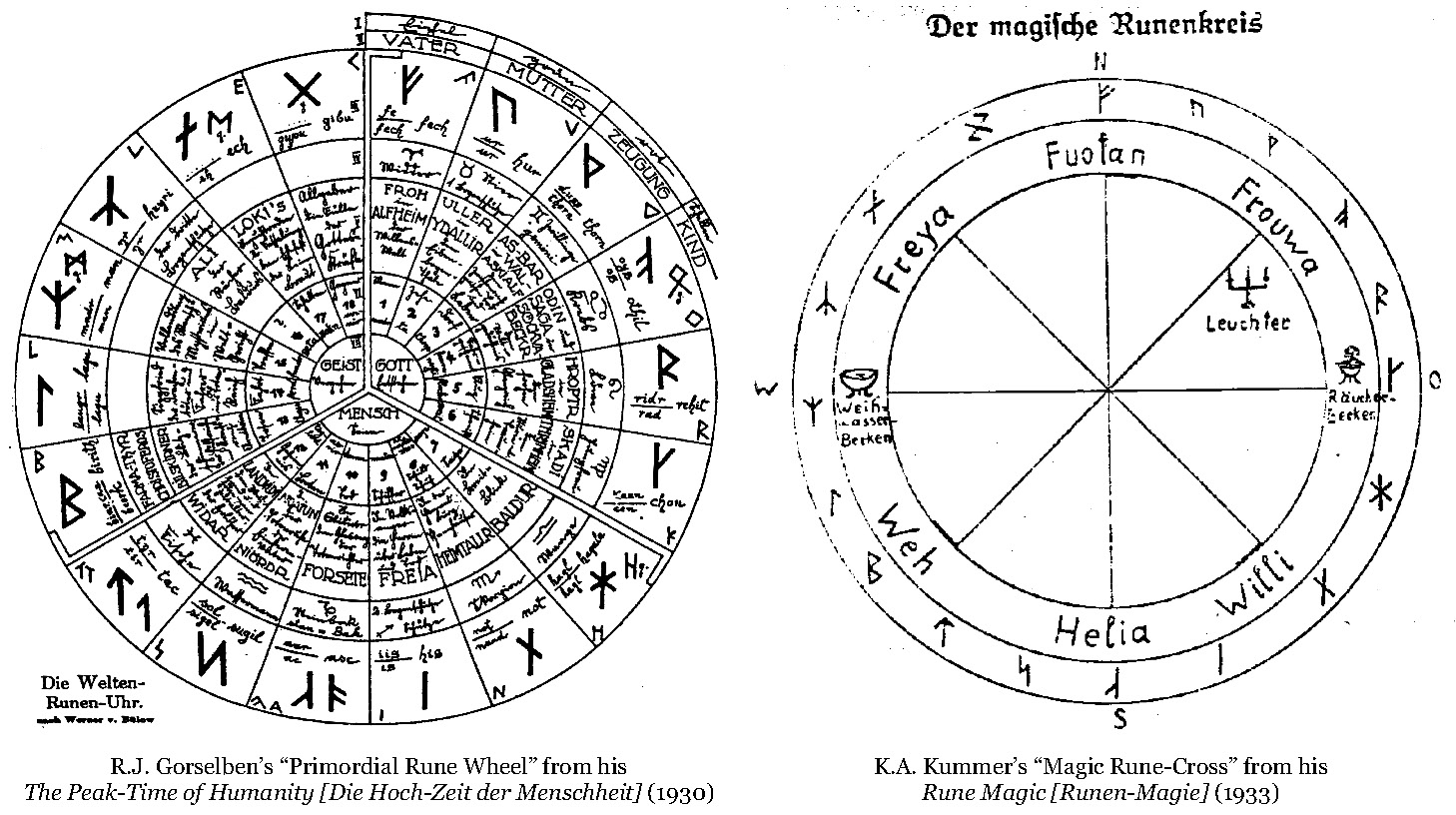 And here we have a Rune Circle from Huiracocha's FRA group (with a translation of its correspondences on the right):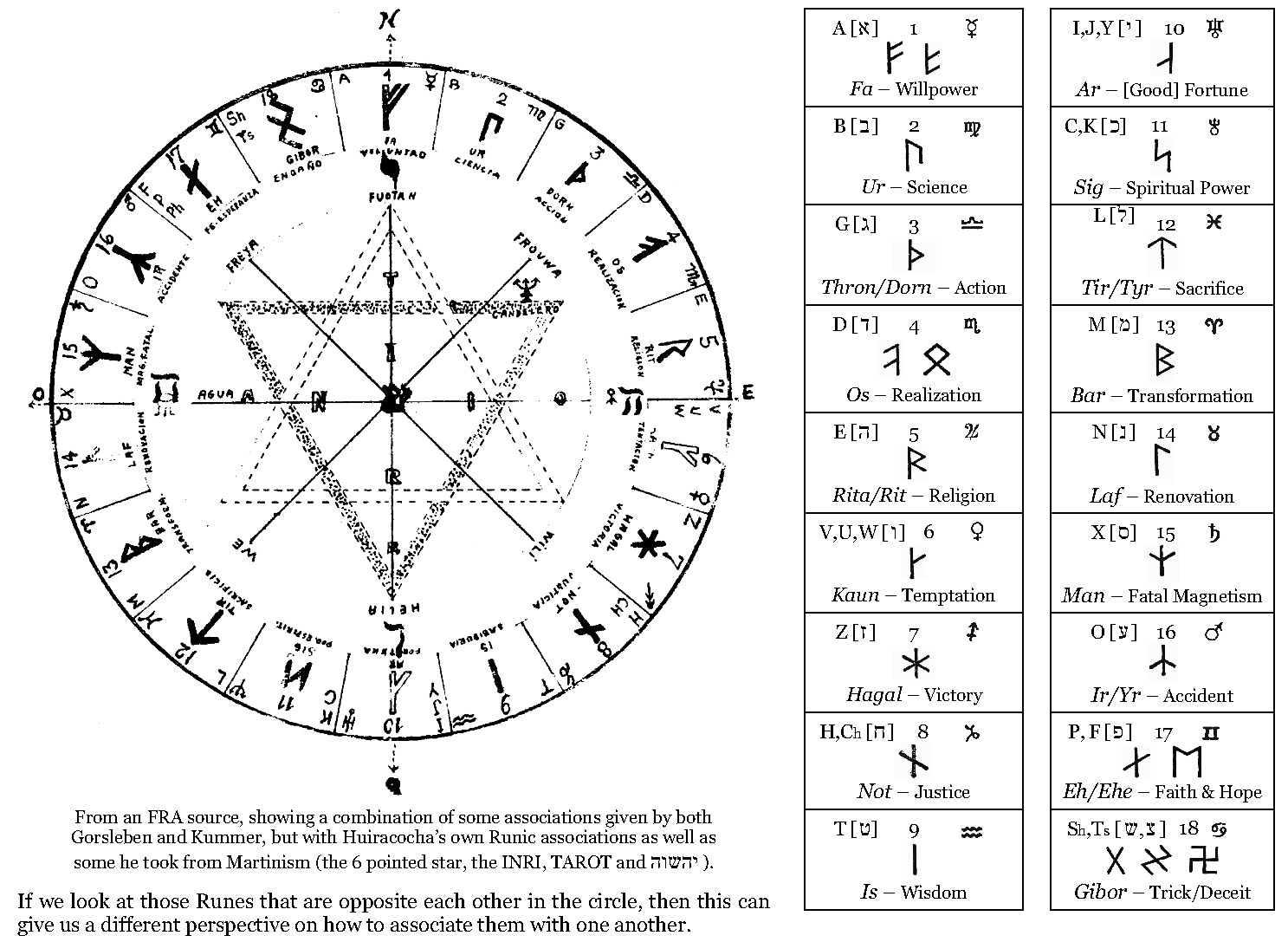 A comparison of these 3 Rune Circle clearly show the influence that the German authors (Gorsleben and Kummer) had on Huiracocha.
We also know that Samael Aun Weor says he studied at an FRA school (in Columbia – most likely in Bogotá) and that he talks about Huiracocha's "course of Runic Magic" (in Ch. 31 of his book Igneous Rose ). It seems that he may also have been familiar with Kummer's Runic Postures: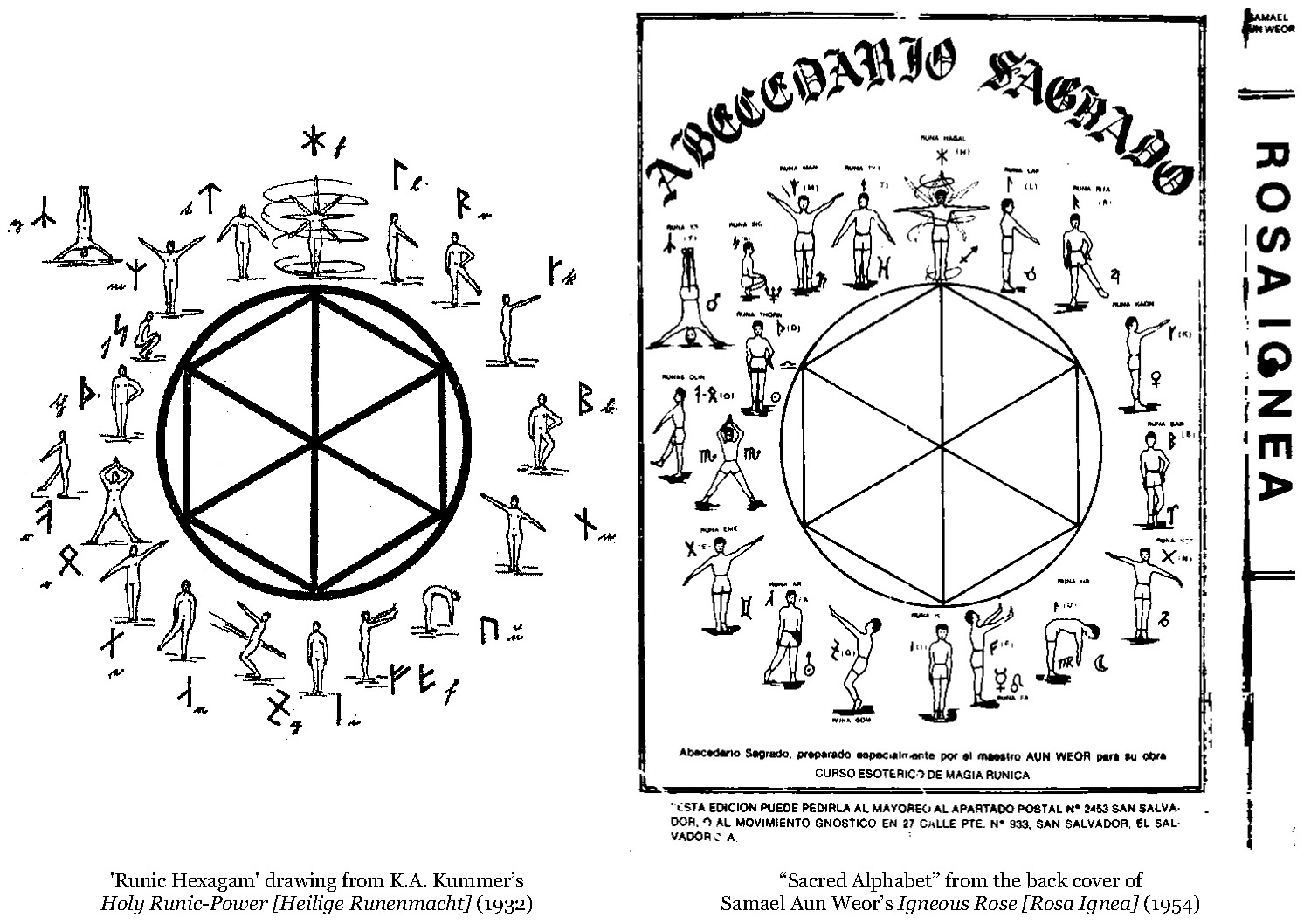 However, if these were the same postures as what Huiracocha's FRA schools were teaching during that time, then maybe these are just the 'standard' rune postures he learned and become familiar with…
Let's remember what he says in Ch. 31 of Igneous Rose :

"…the sacred Runes are not the property of Master HUIRACOCHA, because this knowledge is as ancient as the world and belongs to the great Schools of Internal Mysteries."
Rune Attributes
Number

Rune
Symbol

Associated
Letter

Esoteric
Rune Name(s)

Huiracocha's
Astrological
Association

Huiracocha's
Color Association

Huiracocha's Additional Associations

1

(F)

Fa

Mercury
(& Leo)

Violet, yellow

Destiny, guide (Fire)

2

(U)

Ur

Virgo
(& Moon)

Dark violet

Science, comprend (Light)

3

(D)

Dorn/Thorn

Libra (& Sun)

Yellow, blue, light green

Action, matrimony, achieve (Willpower)

4

(O)

Os

Scorpio

Dark red

Realization, offer (Door)

5

(R)

Rit / Rita

Jupiter

Blue violet

Religion, understand (Law)

6

(K)

Kaum / Kaun

Venus

Yellow, orange

Temptation, sustain
(the Eternal Feminine and Sex)

7

(H)

Hagal

Sagittarius

Purple, blue, red

Victory, transmute (Interior)

8

(N)

Not

Capricorn

Dark blue, indigo

Justice, equilibrium, separate (Danger)

9

(I)

Is

Aquarius

Light blue, lilac, violet

Wisdom, ability, run
(the Being, the Magical Self)

10

(A)

Ar

White

Yellow, orange

Change of fortune, change (Altar)

11

(S)

Sig

Neptune

Iridescent

Spiritual power, want/wish (Victory)

12

(T)

Tyr/Tir

Pisces

Purple, grey, coffee

Sacrifice, excite (Trinity/Macrocosmos)

13

(B)

Bar

Aries

Light or bright red, brick

Formation, death, fecundate (Microcosmos)

14

(L)

Laf

Taurus

Yellow, blue, green

Renovation by dominion, fix
(Life and Marriage)

15

(M)

Man

Saturn

Turquoise blue

Magic, fatality, impulse
(God-Man)

16

(Y)

Yr/Ir

Mars

Red

Accident, catastrophe, end [Terrestrial-Man]

17

(E)

Ehe/Eh

Gemini

Bright violet

Truth, faith, hope, unite [Marriage]

18

(G)

Gibor/Gibur

Cancer

Green, white

Deceptions, friends, traitors
(End of prayer or Return to God)

19

[Belgthor or Ger/Jera]

Leo

Orange, yellow, gold

Fortune, friendships

20

[Cross]

Moon

Green

Awakening, reincarnation

21

[Othil or Odil]

Eclipse

Black, grey

Failure, deception

22

[Malkreuz]

Sun

Orange, green, yellow

Success