Guido Von List, Völkisch Ideas and the Runes
Guido Von List (1848-1919) is one of the most well known figures who promoted Germanic or Runic Occultism. From an early period in his life, he claims to have given up Roman Catholicism in favor of worshiping the Germanic Wotan. He apparently spent a lot of time in the countryside of Austria as a youth, hiking and enjoying nature. From the 1870s to the 1890s, he began to write articles and novels placing a völkisch emphasis on the folk culture and customs of rural people, believing that many of them survived from the pre-Christian native Germanic religion.
During an 11-month period of blindness (after a cataract operation) in 1902, List became increasingly interested in occultism, in particular coming under the influence of the Theosophical Society. During this period of temporary blindness, he contemplated questions surrounding the origins of the German language and the use of the runes. After publishing a number of articles in various magazines, the popularity of his article 'The Mystery/Secret of the Runes' (in 1906) in the German Theosophical magazine "New Metaphysical Review" lead to this article being published as a booklet the following year.
The popularity of his work among the völkisch and nationalist communities resulted in the establishment of a "List Society" in 1908. The Edda Society led by Rudolf Gorsleben and the Germanen Order founded by Hermann Pohl were inspired by List. Many of these societies became increasingly political and were partly involved in the creation of the Nazi party NSDAP.
The List Society produced six booklets authored by List himself between 1908 and 1911. Entitled "Aryo-Germanic research reports", they covered List's opinions on the meaning and magical power of runes, the ancient Germanic priesthood, Austrian folklore and place-names, and the secret messages within Shields, Coats of Arms, Family Crests, etc.
List claimed (like Johannus Bureus 200 year before) that there are hidden meanings in the runes, emphasizing that they had three different levels. The first level is the outer exoteric level. The second is the inner esoteric and the third is the most secret, called the "Armanen" level. The Armanen level was (according to List) only for the initiated runic priests (those who had been initiated by Odin or 'Wotan').
He promoted a spiritual system which he called "Wotanism", which he saw as the exoteric or outer form of pre-Christian Germanic religion, while "Armanism" was the term he applied to the more secret teachings of this ancient belief system. He claimed that while Wotanism taught polytheism for the wider population, those who were members of the Armanist elite (or Armanenschaft ) were aware of the reality of monotheism.
It has been suggested that List's spiritual system consisted of "an original synthesis of his reading of Germanic mythology combined with Theosophy" and to that could also be added a sliver of Freemasonry (or what List understood Masonry to be). List's early Theosophical influence came largely from the writings of German Theosophist Max Ferdinand Sebaldt von Werth, who had combined Theosophical ideas with his own interpretations of Germanic mythology and emphasis on racial doctrines. In List's later works, the Theosophical influence over his philosophical ideas grew, and he began referencing Helena Blavatsky's The Secret Doctrine and even expressed the view that Norse mythology agreed with the cosmological teachings of Theosophy.
Guido Von List's Spiritual System: Wotanism, Armanism, and his Runology
List's spiritual system was constructed largely on the Havamal , the Prose Edda , the Poetic Edda (old Norse texts which appear to have been composed in Iceland during the late Middle Ages). He interpreted them as accurately reflecting the belief systems of the Germanic refugees fleeing Christian persecution. He believed that prior to the spread of Christianity into Northern Europe, there had once been a culturally unified Germanic civilization that had been spread across much of Europe, which came to be degraded and divided under the impact of Christianity.
He initially emphasized the idea that ancient German society had been led by the hierarchical system of initiates: the Armanist elite (or Armanenschaft), who acted as teachers, priests, and judges. He claimed that the ancient Armanist brotherhood had consisted of three degrees (each with their own secret signs, grips, and passwords), similar to the 'Blue Lodge' of Freemasonry. In List's interpretation of history, the Christian missionaries persecuted the Armanists, resulting in many fleeing northward into Scandinavia and Iceland. He believed that they developed a secretive language for transmitting their teachings, known as "Kala".
List claimed that after the Christianization of Northern Europe, the Armanist teachings were passed down in secret, thus resulting in their transmission through later esoteric traditions such as Freemasonry and Rosicrucianism. In addition, List claimed that Armanists had imparted their secret teachings to the Jewish rabbis of Cologne in the eighth century, with the hope of preserving them from Christian persecution. He believed that these teachings became the Kabbalah, which he therefore reasoned was an ancient German and not Jewish innovation, thus legitimizing its usage in his own teachings and this was used to support List's anti-semitic agenda.
For List, that the basic teachings of the original Germanic religion were found in the runic alphabet, and that they could be deciphered by linking these letters with particular 'runic spells' which appear in the Havamal Poem. He claimed to have deciphered these secret meanings himself, translating them into statements such as "Know yourself, then you know all", "Fear not death, it cannot kill you", "Marriage is the root of the Aryans!", and "Man is one with God!"
List emphasized the importance of a mystical union between humans and the universe, viewing divinity as being immanent in nature, with all life being an emanation of it. Connected to this, he believed in a close identification between the racial group (the volk or folk) and the natural world. He believed that human beings had an immortal soul, and that it would be 'reincarnated' according to the laws of karma until eventually uniting with divinity (a concept based on a spiritual idea of 'evolution').
Guido Von List's Theories of Runology
The Kala: Guido Von List's "Mystery Language"
In the last work published during his lifetime, The Primordial Language of the Aryo-Germanic People and their Mystery Language [Die Ursprache der Ario-Gennanen und ihre Mysteriensprache] (1914), List gave his esoteric theories on the hidden meanings of sound.
His system depends upon the phonetic values (instead of the numeric, such as in Kabbalah) in order to unlock the secret meanings of language.
He says that the Primordial Language or "original Aryan language" (which he calls the "Kala ") is founded upon sixteen vocalizations, of which:

• five count for the Vowels or "self-sounding" sounds: A, E, I, O, U;
• one for the Hauchlaut (literally "Breath-Sound"), the Aspirate or Aspiration sound (also called the voiceless glottal fricative): H (which is to pronounce the letter "h" at the beginning of a word);
• and the ten remaining are attributed to the Consonants: F/V, R, K/G, Th/D, N, S/Z, T, B/P, L, M.
List says "The law of becoming and development (Progression) is subdivided into ten levels" which correspond to the Vowel sounds in an interesting way:
Table 1 – Vowels
1

A

Ursache oder Kraft

Cause or Force

2

A

Wille zur Kraftäußerung

Will to Express-Force

3

A

Können (Kunst) als Kraftäußerungsfolge

Capacity (Art) as a
Consequence-of-the-Expression-of-Force

4

A

Verwirklichung des Zweckes in der Tat

Realization of the Objective in Action

5

E

das Gesetz, nach dem die Kraft wirkt
(Verhältnis zwischen Kraft und Tat,
die Macht oder Magie)

the Law by which the Force works
(Relationship between Force and Act/Action,
the Power/Might or Magic)

6

E

die Ordnung, in der die zur Tat gewordene
Kraft natururgesetzmäßig wirkt

the Order, in which the Act which has
become Force works in accordance with
the fundamental-law-of-nature

7

I

im geistigen Innern (psychische Ordnung)

in the spiritual Interior (psychic Order)

8

O

im körperlichen Äußern (physische Ordnung)

in the physical Utterance (physical Order)

9

O

die Eigenschaften bildend

the forming of Characteristics

10

U

in der Vollendung des Planes der Ursache (1)
oder der vorgefaßten Idee.

in the Completion of the Plan from the Cause (1)
or the preconceived Idea

These ten vocalizations of the Consonants have the corresponding attributes:
Table 2 – Consonants
I

(F/V)

das Urfyr, als Ursache oder Kraft

Primordial-Fire, as Cause or Force

II

(R)

das Urluft, als der Wille

Primordial-Air, as the Will

III

(K/G)

das Urerde, als das Können

Primordial-Earth, as the Capacity

IV

(Th/D)

das Urether, als die Tat

Primordial-Ether, as the Act/Action

V

(N)

das Urwasser, als das Gesetz

Primordial-Water, as the Law

VI

(S/Z)

die Sonne und der Blitz,
als Himmelsfeuer, als die Ordnung

The Sun and the Lightening,
as Heavenly-Fire, as the Order

VII

(T)

die Sonne und der Blitz,
als Himmelsfeuer, im geistigen Innern

The Sun and the Lightening,
as Heavenly-Fire, as the spiritual Interior

VIII

(B/P)

Die Erde (Mittgart),
im körperlichen Äußern

The Earth (Midgard),
in the physical Utterance

IX

(L)

das Alleben,
die Eigenschaften bildend

Universal-Life,
the forming of Characteristics

X

(M)

der Mond, die Vollendung

The Moon, the Completion

The Aspiration sound (corresponding to the 8th rune, Hagal

) does not seem to have been given a value. Nor has List included the 16th, 17th and 18th runes of his system: Yr

, Eh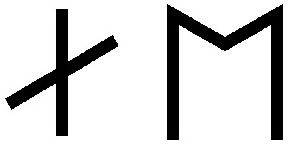 , Gibor

.

These Vowel and Consonant sounds are combined together to make syllables or sound formulas which, according to List, have an esoteric significance. The ordering of the sounds does not matter (it can be vowel-consonant or consonant-vowel), because the power and meaning is in the combination of sound qualities, and not in their ordering:
Table 3 – Combinations of Vowels and Consonants
1-4

5-6

7

8-9

10

1-4

5-6

7

8-9

10

A

E

I

O

U

A

E

I

O

U

I

(F/V)

FA/VA

FE/VE

FI/VI

FO/VO

FU/VU

AF/AV

EF/EV

IF/IV

OF/OV

UF/UV

II

(R)

RA

RE

RI

RO

RU

AR

ER

IR

OR

UR

III

(K/G)

KA/GA

KE/GE

KI/GI

KO/GO

KU/GU

AK/AG

EK/EG

IK/IG

OK/OG

UK/UG

IV

(Th/D)

ThA/DA

ThE/DE

ThI/DI

ThO/DO

ThU/DU

ATh/AD

ETh/ED

ITh/ID

OTh/OD

UTh/UD

V

(N)

NA

NE

NI

NO

NU

AN

EN

IN

ON

UN

VI

(S/Z)

SA/ZA

SE/ZE

SI/ZI

SO/ZO

SU/ZU

AS/AZ

ES/EZ

IS/IZ

OS/OZ

US/UZ

VII

(T)

TA

TE

TI

TO

TU

AT

ET

IT

OT

UT

VIII

(B/P)

BA/PA

BE/PE

BI/PI

BO/PO

BU/PU

AB/AP

EB/EP

IB/IP

OB/OP

UB/UP

IX

(L)

LA

LE

LI

LO

LU

AL

EL

IL

OL

UL

X

(M)

MA

ME

MI

MO

MU

AM

EM

IM

OM

UM
These so-called 'bud-words' or 'kernel-words' can then be combined to form "Ur-words", or Primordial words (the word Ur in German is related to Primordial, Original, Before, etc).
A third kind of word is the root-word and can be the same as an Ur-word or even a kernel-word. The rune names themselves are all considered root-words.
Summary
When we put all of this together, List explains that we can derive the esoteric meaning behind words. These are some of the examples he gives:
FA = I + 1-4,
BAR = VIII + 1-4 + II,
NOTh = V + 8-9 + IV,
UOTAN (Wotan) = 10 + 8-9 + VII + 1-4 + V, etc.
List understood the Runes not only as letters, but also as phonetic values, which he says are related to an ancient language (the Kala ) and that by breaking words down into their syllables (or 'bud/kernel-words'), one is able to extract their esoteric meaning.
The use of this consonant & vowel combinations with a particular rune is something that many other runologists have continued to use, effectively becoming the associated Vocalization or Mantram for each rune. This is probably one of the reasons why List has been described as the pioneer of völkisch rune occultism.